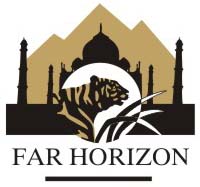 FAR HORIZON TOURS PVT. LTD.
About FAR HORIZON TOURS PVT. LTD.:
Far Horizon Tours
, was formed in 1992 by people who had over two and half decades of experience, in tourism to India. It was formed to provide a uniquely experiential approach for travel to the Indian subcontinent. The company's ethos is to not only view the famous monuments of this great land, but to experience what we call
"Experience the Living Cultures & Natural History of India through its Natural Heritage with creativity, quality and value".
In the last over two decades, the company has grown into one of the most widely respected inbound tour operator of India with four times winner of Kerala Tourism Award, twice winner of the National Tourism Award for Creativity and Innovation, winner of CNBC Travel Award and mention in prestigious publications, both here and abroad.
It offers a high quality services of a white glove and hand holding nature and stands at an overall "Excellence" rating of an incredible 90%+ by it's travellers".
The innovative ideas reflect both in it's infrastructural products and tour programs. It employs over 60 executives in its India operation offices based in Delhi, Kerala, Rajasthan and Assam, which controls the extensive network of representatives through out the sub-continent. This is apart from nearly similar numbers of staff in it's various infrastructure products located in the four corners of the region.
Being a truly rounded tourism organization, it offers in-house expertise ranging from adventure travel including trekking and safaris, to cultural and leisure travel covering both Natural History and Living History travel, it is a genuine "One-Stop India Travel Shop".
Our Vision
Our belief is to synergise with intricacy - Creativity, Quality and Value - one of a kind experiences that beckon the traveller to visit this land time and time again!!
Our Philosophy
"It is not what we do that matters………it is how we do it that counts!"
Professionalism meets care, dreams meet reality and it all begins....... when you meet Far Horizon!
Awards:
Awarded the prestigious National Tourism Award for

2003-04 Creativity
2011-12 the Most Innovative Tour Operator
2015-16 Best Adventure Tour Operator

Four times winners of The Kerala Tourism Award (Most Eco-friendly tour operator)
Twice winners of the CNBC Travel Award 2012 and 2013
Top five small and medium enterprises of India by SKOCH Foundation
Winners of Adventure Sports Expo Asia Award 2018
Official Recognitions and Affiliations
Recognized by ministry of tourism, Government of India
Member : IATO, ATOAI, IMF
Iconic Tours Handled
National Geographic Photo Tours
Smithsonian National Board
Professional Education Society
Chicago Field Museum
Asian Art Society
New York Metropolitan Museum
Geographical Society of Australia
Tibet House, USA.
OPM of Harvard Alumni
Yale Community Service Program
Celebrities Handled:
Goldie Hawn
Robert Thurman
Russell Brand
Late Prime Minister Atal Bihari Vajpayee, India
Media Mentions
USA - Conde Nast Traveler, New York Times Travel, Travel & Leisure Magazine, Moore International and Coastal Living
UK - The Daily Telegraph, The Times and Travel Weekly
Australia: Travel Insider - Quantas
Switzerland: Neue Zurcher Zeitung AG
Germany: Gour-med
Spain - The Viajar, Siete Leguas, El Mundo, El Arte de Vivir, ABC & El País
France - Voyage de Luxe & Vivre ZeN
India - Economic Times, Business World, The Times of India and Outlook Traveller Magazine
Nat Geo People Channel,
National Geographic Channel and
Master Chef Program of Channel Nine.
---
Specialization Detail:
Through
North India
tours are offered on the Golden Triangle with Village Safari, while staying in the tribal valleys of the Aravalli hills. Also, Valley of the Ganges tours with a Cruise on the River Ganges and travelling In the Footsteps of Lord Buddha.
Through
Western India
tours are offered through Rajasthan with Festivals and Desert Safaris, while staying in luxury on-top of a sand dune. As-well-as, tours through Gujarat, with a safari through the Rann of Kutch.
Through the
Western Himalayan Ranges,
safaris are offered into Ladakh - forming a part of the Tibetan Plateau and over the Great Himalayan Divide. As-well-as, tours to the lunar landscape valleys of Spiti.
Through
Central India
a journey is organized through the land of the Tiger, the land of Rudyard Kipling and jungles teaming with incredible wildlife like the bisons, deers and wild dogs. Elephant and jeep rides are organized to see the tigers of this region.
Through
South India
a journey is organized visiting the temples of Tamil Nadu and the palaces of Karnataka, ending with a leisurely cruise through the water based villages of the backwaters and the grand festivals of the gold caparisoned elephants in Kerala.
Through
North East India
we cruise on one of Asia's best river cruise boats on the third greatest river of the world called the River Brahmaputra, under the shadows of towering snow covered Himalayan mountains. From here we go on elephant, jeep and boat safaris to see the single horned rhinos, elephants, wild buffaloes and fresh water dolphins along with, meeting tribal people, visiting monasteries, temples, tea plantations and palaces.
Through the
Eastern Himalayan Ranges
proceed into Darjeeling and Sikkim for a cultural tour or, a safari under the shadows of the Mount Kanchenjunga, the third highest mountain of the world. Travel further into the last of the Shangri-Las, the land of the "Thunder Dragon" called Bhutan.
The company also has overseas sales offices in USA and UK. It enjoys a leadership position from the US and Australian markets, where it handles some of the largest tour operators, along with tourists from Germany, France, UK and Scandinavia. Being in the business with a sustained business since the last three decades and with a movement of over 4500 international travelers, it offers the security and competitiveness of a large operator, with the creativity and personalized services of a smaller operator.
The organization has over its years shown a healthy 10-15% annual growth with over 65,000 satisfied travelers to its credit and is now projecting an even stronger growth, due to the launch of it's new luxury river cruise boat on the River Brahmaputra. It's past client's list includes prestigious customers like the Smithsonian, the Geographical Society of Australia, the National Geographic Society, alumni of universities like Harvard, Yale, Wharton, California, Arizona, etc.. Soem of the famous personalities handled are: Goldie Hawns, Robert Thurman (President of the Tibet House), Domenique LaPierre (author of Freedom at Midnight, etc.), Javier Morro (author of Five Minutes Past Midnight, etc.).
Being a tour leader driven company, it has an extensive tour leader training program with trainers coming from USA and UK, apart from in-house people conducting the annual trip leader training workshops. Result is that it has its own hand picked trip leaders in various languages in each of the regions of India, Nepal and Bhutan. All these operations are monitored by its quality assurance team, resulting in an over 89% ratings showing "Excellent" for its tours, where the philosophy is that "Good-Is-Not-Good-Enough".
Scattered around India, It has created some of the most unique products, which delve deeply into the village India through its rivers, deserts, mountains, villages and festivals. With jungles and seas to follow. These products are in our philosophy of "Leadership through Innovation" and a tradition of constantly introducing newer concepts in the market.
The company's promoters with a history of having climbed 11 Himalayan peaks and trekked across the Himalayas, had in the 1980s pioneered trekking in Indian Himalayan regions like Ladakh, Kinnaur-Spiti, Kumaon and North Sikkim to the base camp of Kanchenjunga. Offering a level of service in Himalayan treks and safaris which has been unmatched since then, Far Horizon takes you on an adventure, exploring the remote and spectacular ranges, valleys and rivers of the Indian, Nepalese and Bhutanese Himalayas.
Using the above mentioned exclusive experiences, we can create a unique tour to touch the soul of the area you are visiting.
---
Brief details about the services offered:
1. Cultural Tour Programs Through Out India, Nepal, Bhutan And Sri Lanka.
2. Desert Safari Programs Through Out In The Thar Desert With 4Wd Vehicles And Camels.
3. Himalayan Journeys With 4Wd Vehicles.
4. River Cruise Programs Through The Brahmaputra River, Kerala Backwaters And Ganges River.
5. Trekking Trips Through Out India, Nepal And Sri Lanka.
6. Wildlife Safaris Through Out India And Nepal.
7. Traditional Festival Tours Through Out India, Nepal And Bhutan.
8. Village Safari Tours Through Out India, Neapl And Bhutan.
9. Special Interest Tours Like Gastronomy, Textiles, Anthropology, Architecture And Astronomy With Astrology In India.
10. Island Hopping Tours Through Andaman Islands.
---
Contact Details:
Name of the Company: FAR HORIZON TOURS PVT. LTD.
Contact Person: Mr. Sanjay Basu
Designation: Managing Director
Street Address: 50 LGF, Charmwood Plaza, Eros Garden
City: Faridabad
State: Haryana
Pincode: 121009
Email: info@farhorizonindia.com
Phone: 0129-4098000
Mobile: +91 9810152903
Website: www.farhorizontours.com